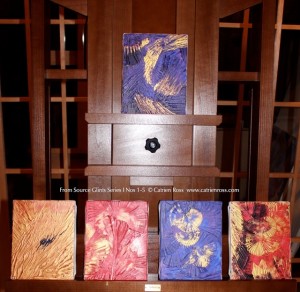 Honkohji, a Buddhist temple in Japan's heartland, will present Catrien Ross latest paintings in a solo art show titled Soul Journeys, or Tamashii no Tabi in Japanese.
With some 1,600 years of history, Honkohji is a Nichiren Buddhist temple in Fujinomiya City, Shizuoka Prefecture.
I am delighted that more than 40 of my acrylic on canvas paintings already hang throughout Honkohji, including the main hall.
Catrien Ross solo art show Soul Journeys will feature my 2014 Glints Series artwork, new in 2014.

Jewel-toned and richly textured, these small yet powerful paintings express aspects of a vibrant spiritual landscape revealed through the inner eye.
Art exhibition dates at Honkohji are May 16-18, 2014.
If you happen to be in Japan, I'd love to see you then!
For more information email catrien@catrienross.com
Visit www.catrienross.com to see more of my Art from Source.
Share this article:

Subscribe to our free e-newsletter, Natural Energy Wisdom
If you quote this article in part or whole, please provide a link back to the author at www.energydoorways.com